Workplaces are often busy places, with plenty of customers, clients, and colleagues within close distance of each other.
This can make having confidential conversations tricky.
If you need to have a private phone call and require a quiet and confidential place to do so, this can be hard to find.
One great solution for this is adding an acoustic phone booth.
These booths are designed to fit one person and have great soundproofing qualities, meaning no distracting noises make it in, and no information gets out.
Here at Max Furniture, we provide a wide range of booths, including one-person products that are ideal for this situation.
We've created this guide to tell you more, so let's take a look.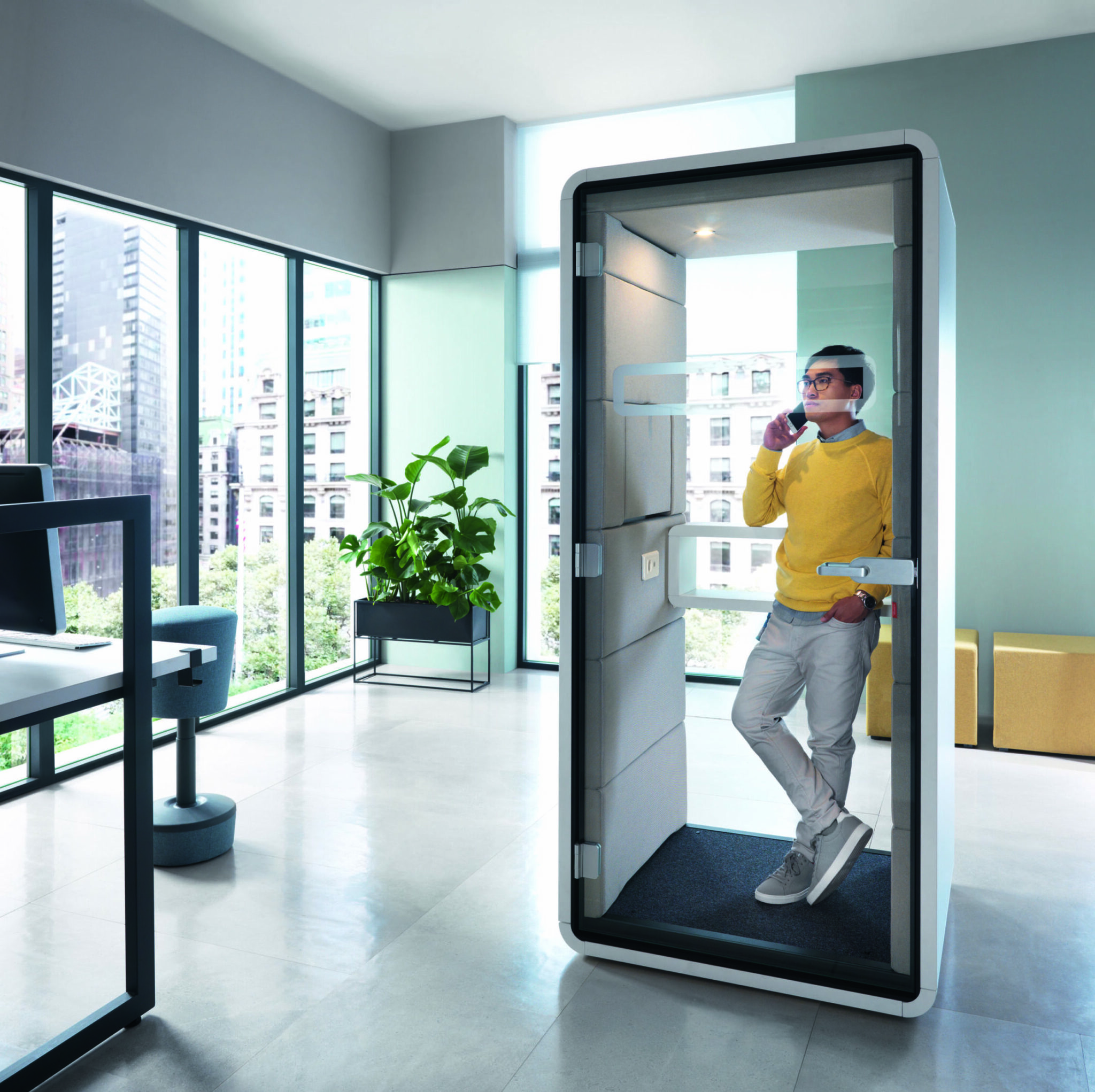 The Importance of a Private Booth for Confidential Calls
There are many reasons why a private phone booth can be an important addition to an office, including these:
It Allows for Confidentiality – In a small workplace or office, finding somewhere to speak privately can be hard. A personal phone booth allows for that and provides a space to hold an open and free conversation without any interruptions or any information being overheard.
It Maintains Professionalism – Phone calls are an integral part of business communication, and if your employees and colleagues are always struggling to hear, or trying to speak quietly to maintain privacy, this won't reflect well on your brand. A phone booth provides a place to speak in a clear and professional way, which can make a big difference when it comes to your reputation.
It Reduces Stress – If one of the people in your office needs to discuss a personal matter whilst at work, they may begin to feel anxious if they can't find a place to do so. With a private phone booth, an organisation is showcasing a degree of care for the well-being of their employees and providing them a place to speak freely without any anxiety about people overhearing.
It Promotes Hybrid Working – The way people work is changing, and more companies are now leaning towards a hybrid or remote approach for a portion of workers. This means communication is key, and an office phone booth provides the perfect place to stay in touch with colleagues working elsewhere.
These are just a handful of the reasons these one-person booths can be so effective in an office or workplace. There are plenty more to add, and here are five great booths that you can add to your workplace and reap the rewards today.
5 Great Booths for Private Phonecalls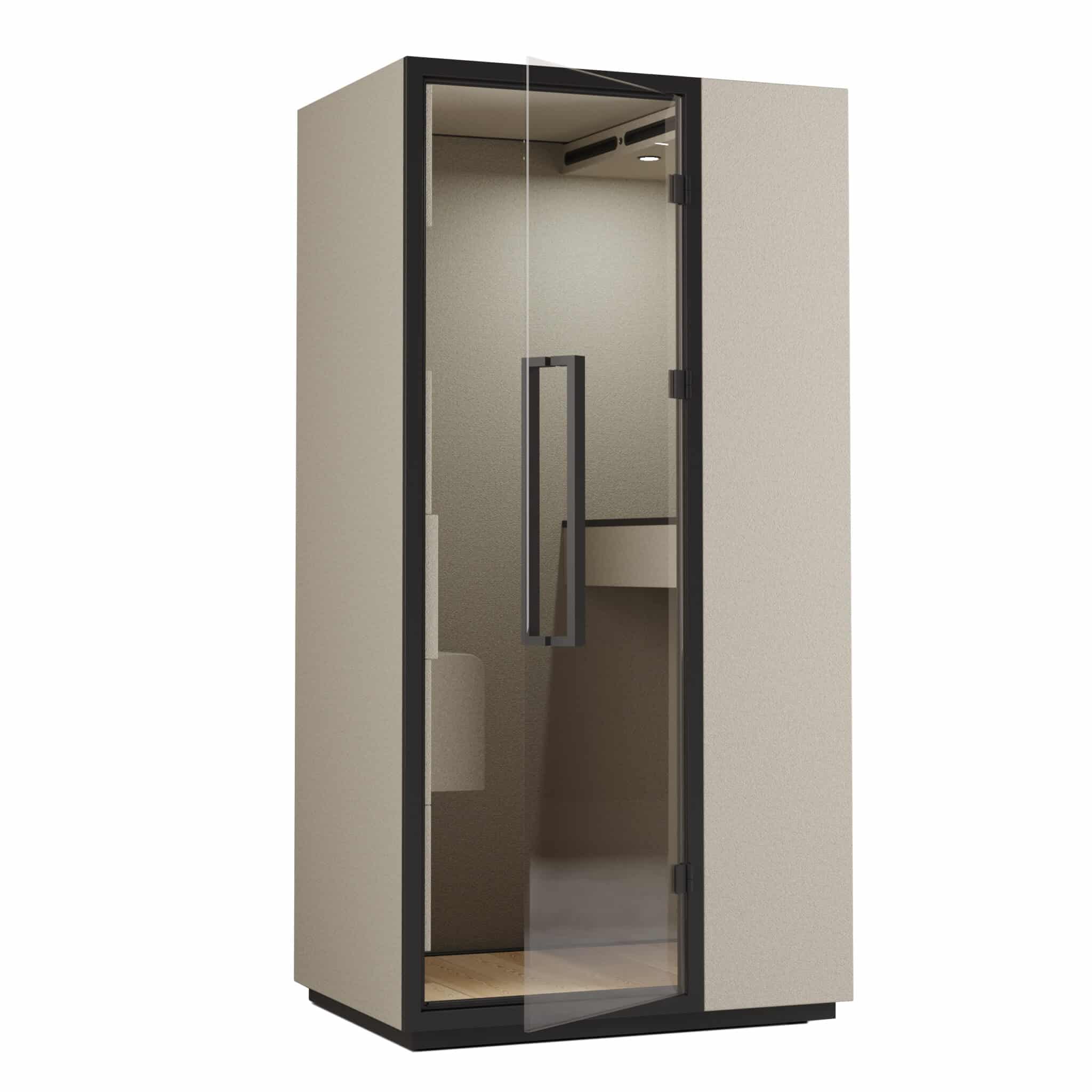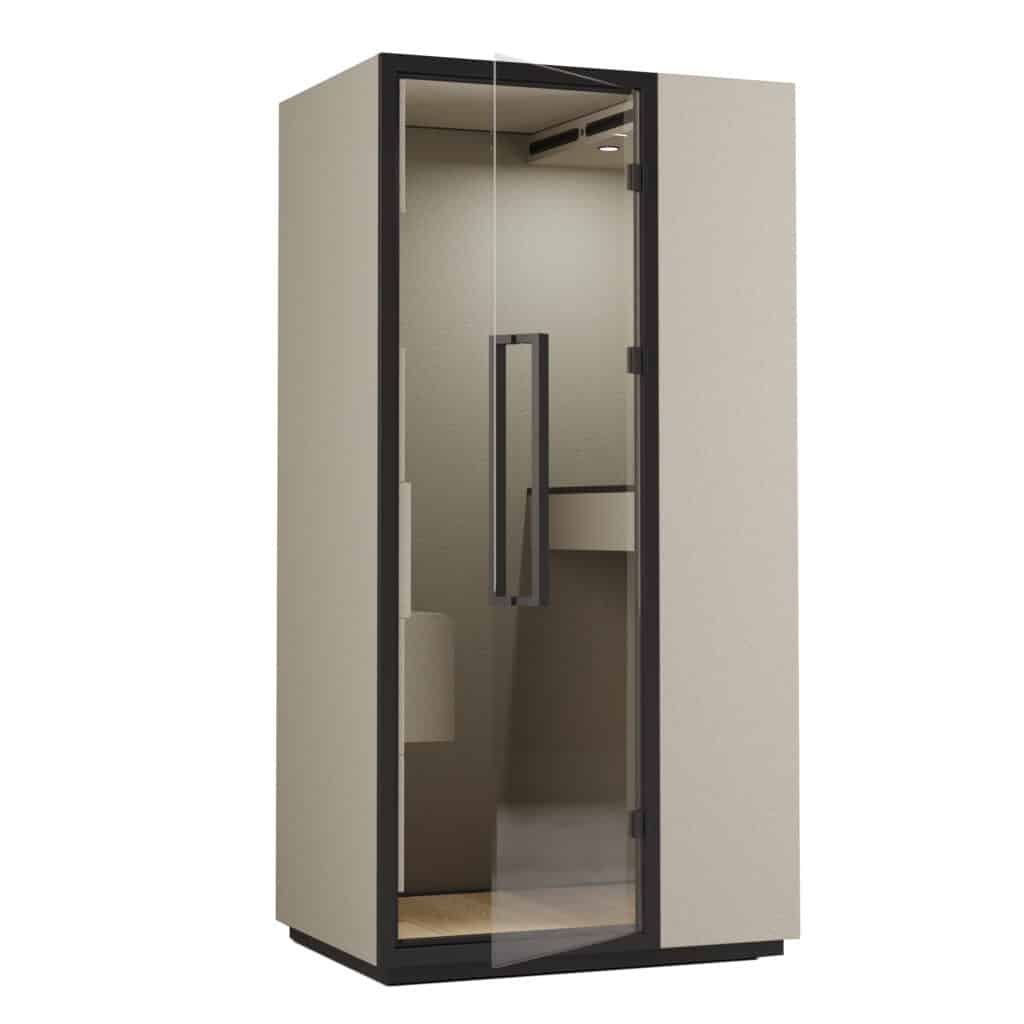 Bejot is committed to addressing the requirements of workers who find themselves situated in vibrant, bustling environments.
By offering the Quadra Standing Box, they are providing a place dedicated to holding private conversations, whether that is video conferences or phone calls.
There are some great features to this booth, including diverse styling choices, exceptional comfort, integrated seating, and stunning sound insulation.
At just under 85cm in depth, and 112cm in width, this is a compact, yet surprisingly spacious booth that can slot into most workplaces seamlessly.
It's also super stylish, with a fabric interior and wooden furnishings alongside a glass-panelled door.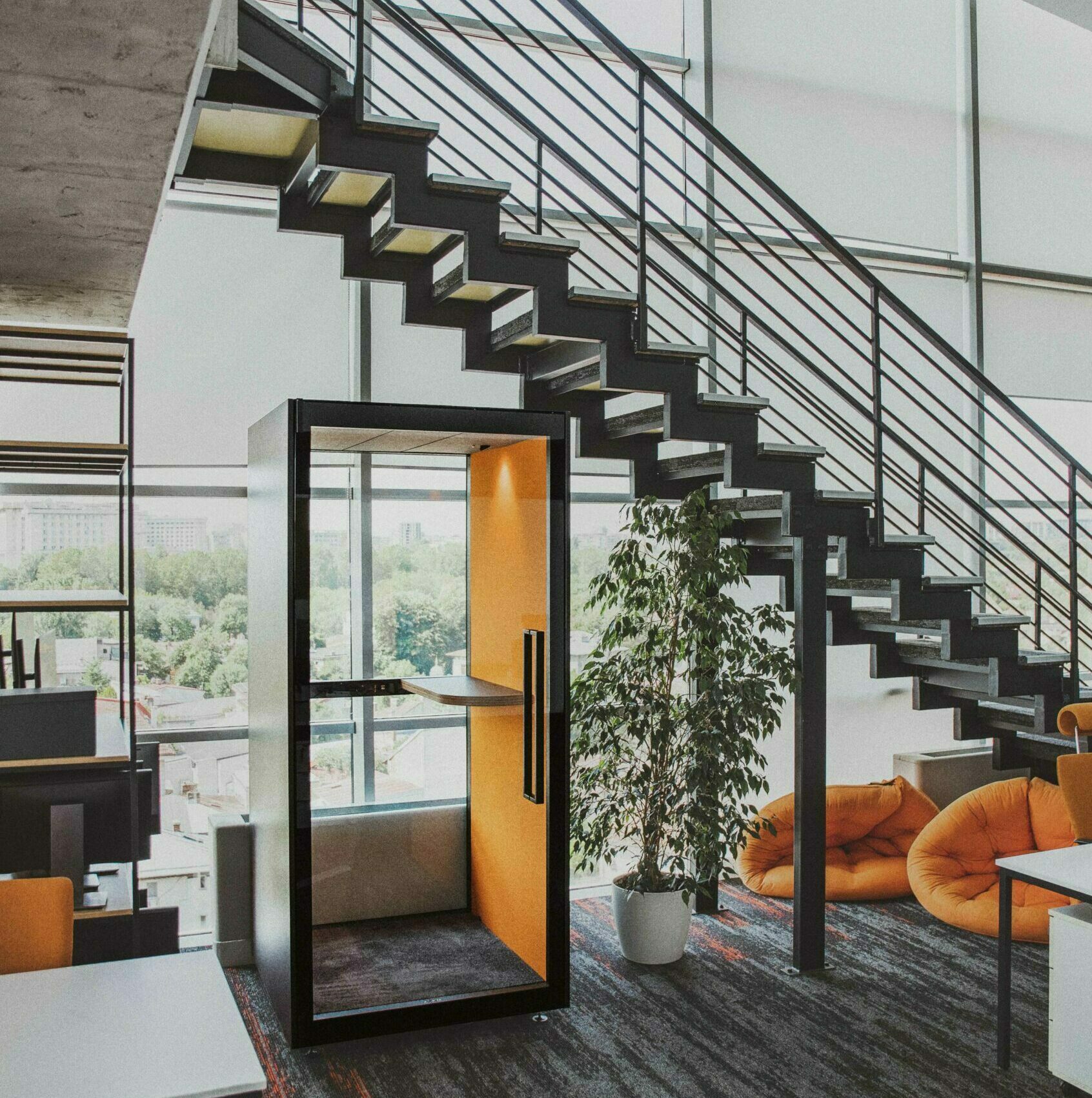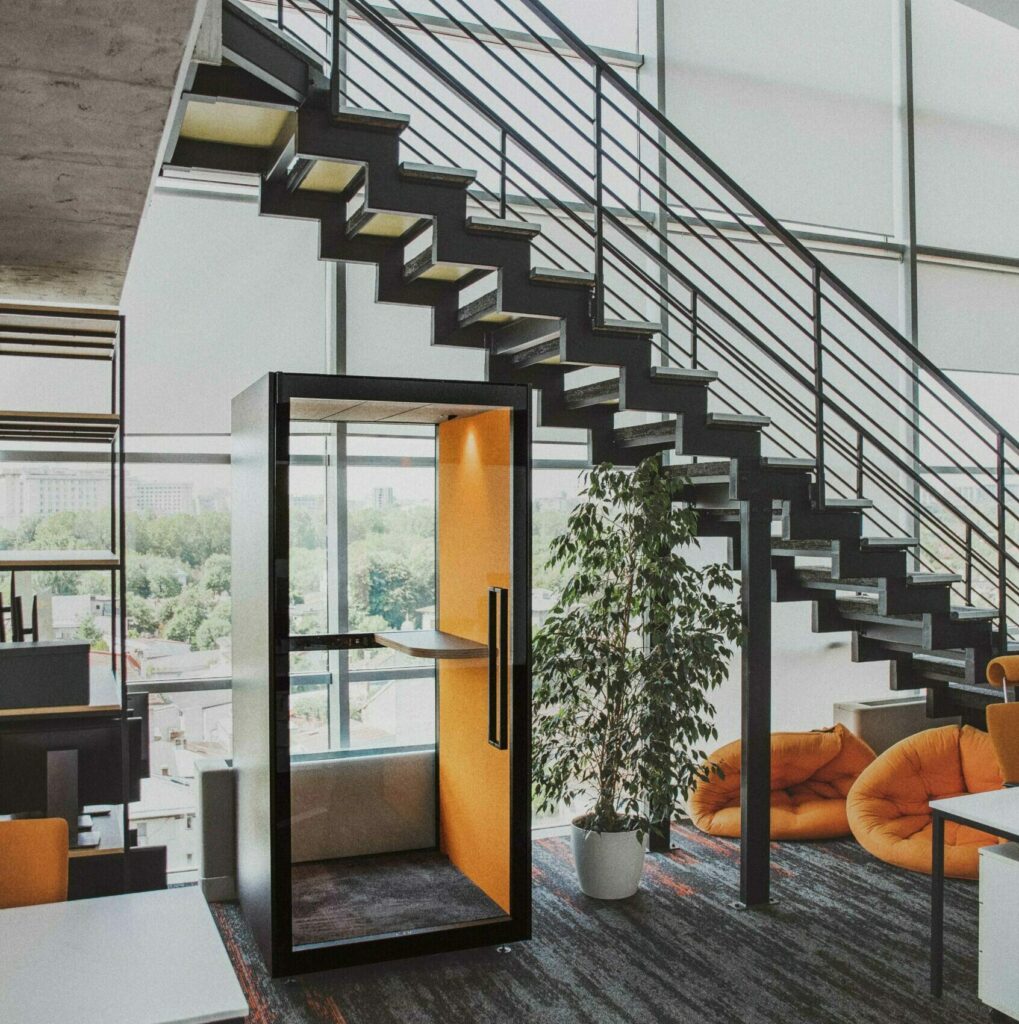 This booth from Askia has been tailor-made to be an ideal place for important calls.
What's great about this booth is that it is so versatile. The exterior panelling can be removed and altered so it always is on brand and looks good.
A handy stool is provided alongside a wooden desktop big enough to fit a laptop if you want to take notes or hold a video conference. There is even an optional interior pinboard for jotting down anything that comes up during the call.
With air that is filtered at least once every 100 seconds, and a fresh, spacious feel, this is a great environment for long and confidential calls and the great soundproofing qualities that come as standard mean nothing will be audible outside the booth that shouldn't be.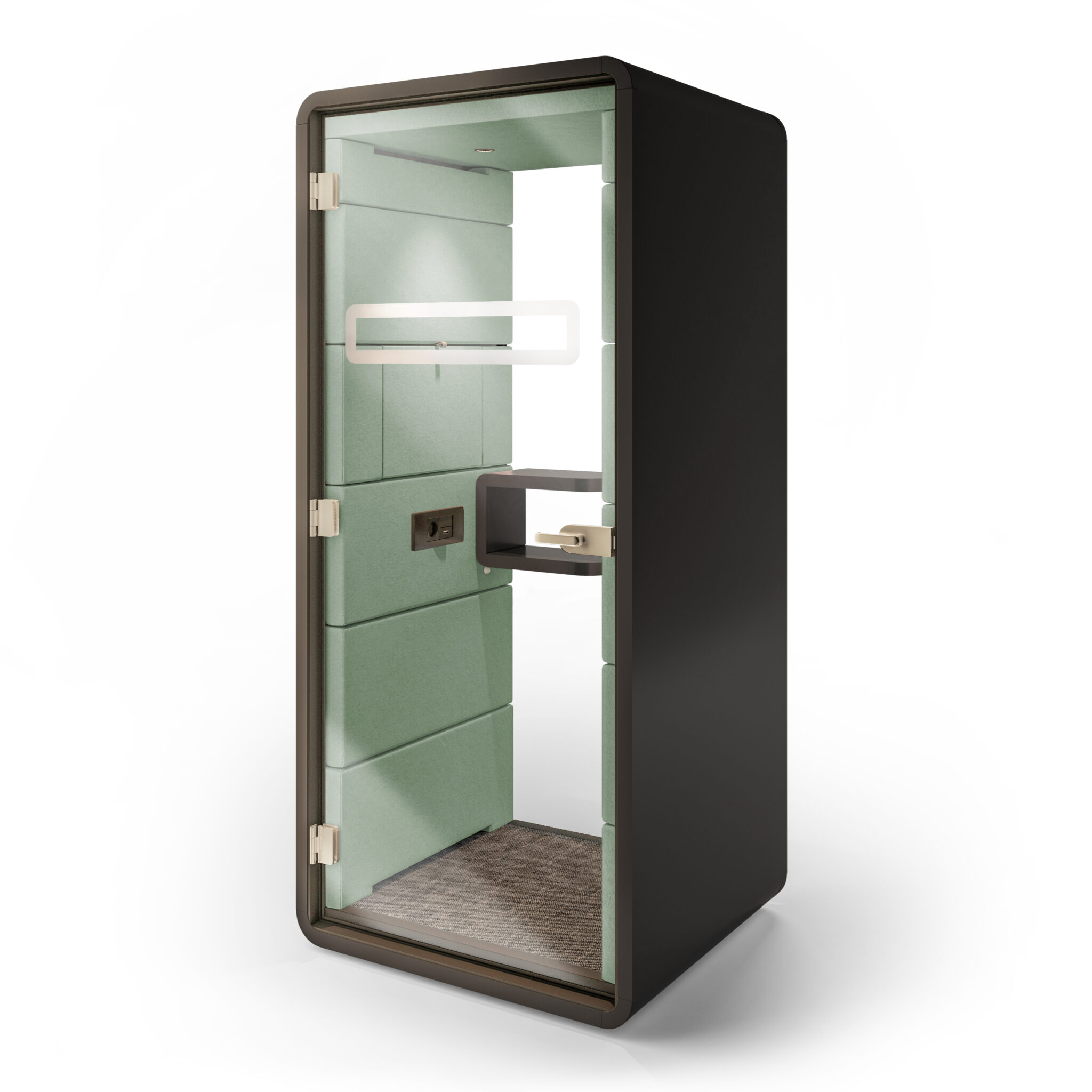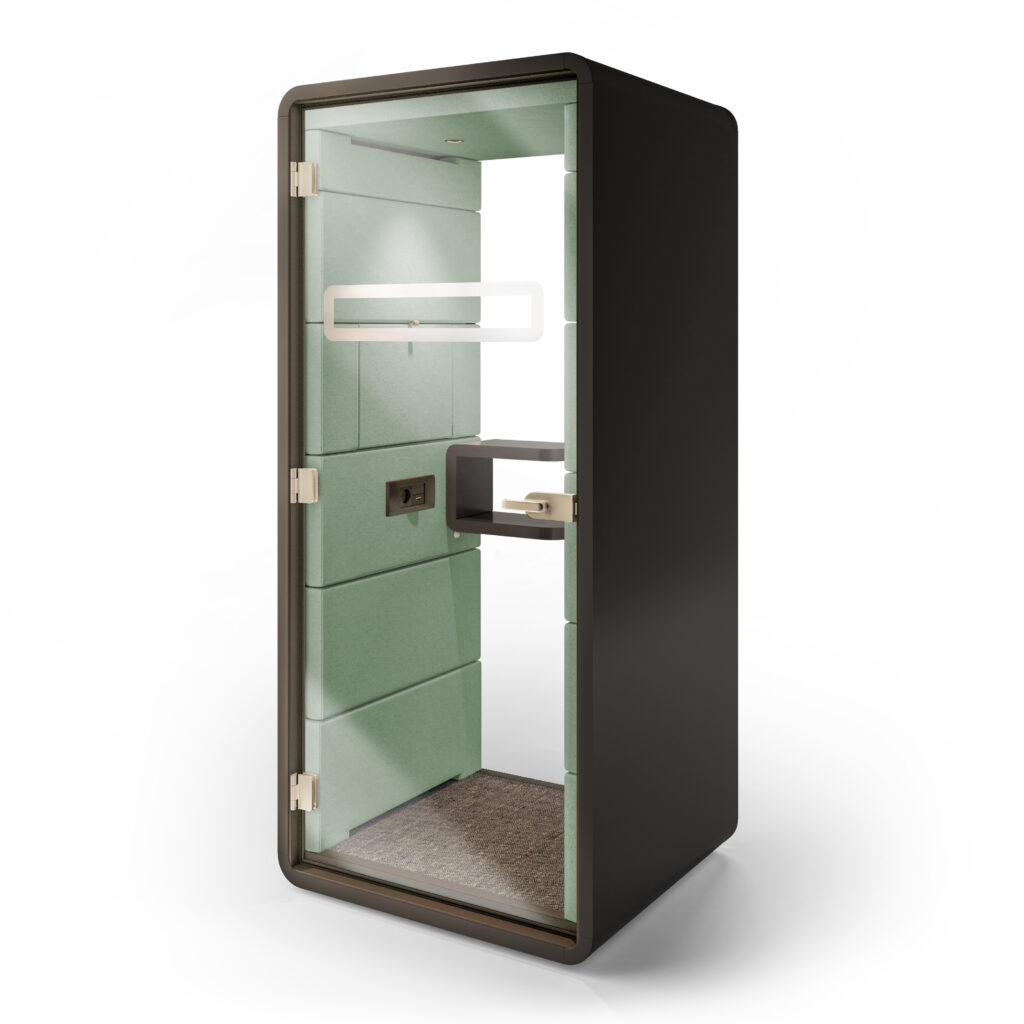 The name says it all with this one.
Hush Office are a huge player in the workplace booth market, and their dedicated phone booth offering is just as high quality as expected.
This is a simple yet effective booth, that has all the acoustic qualities needed to hold private calls.
A great feature of this private pod is its versatility. There is a fold-away table, so if you need to take notes you can. If you just need the space to speak on the phone, then everything can be neatly packed away, providing you with plenty of space and comfort.
There is a small shelf for storage if needed, and an optional floor-mounted stool for them longer conversations.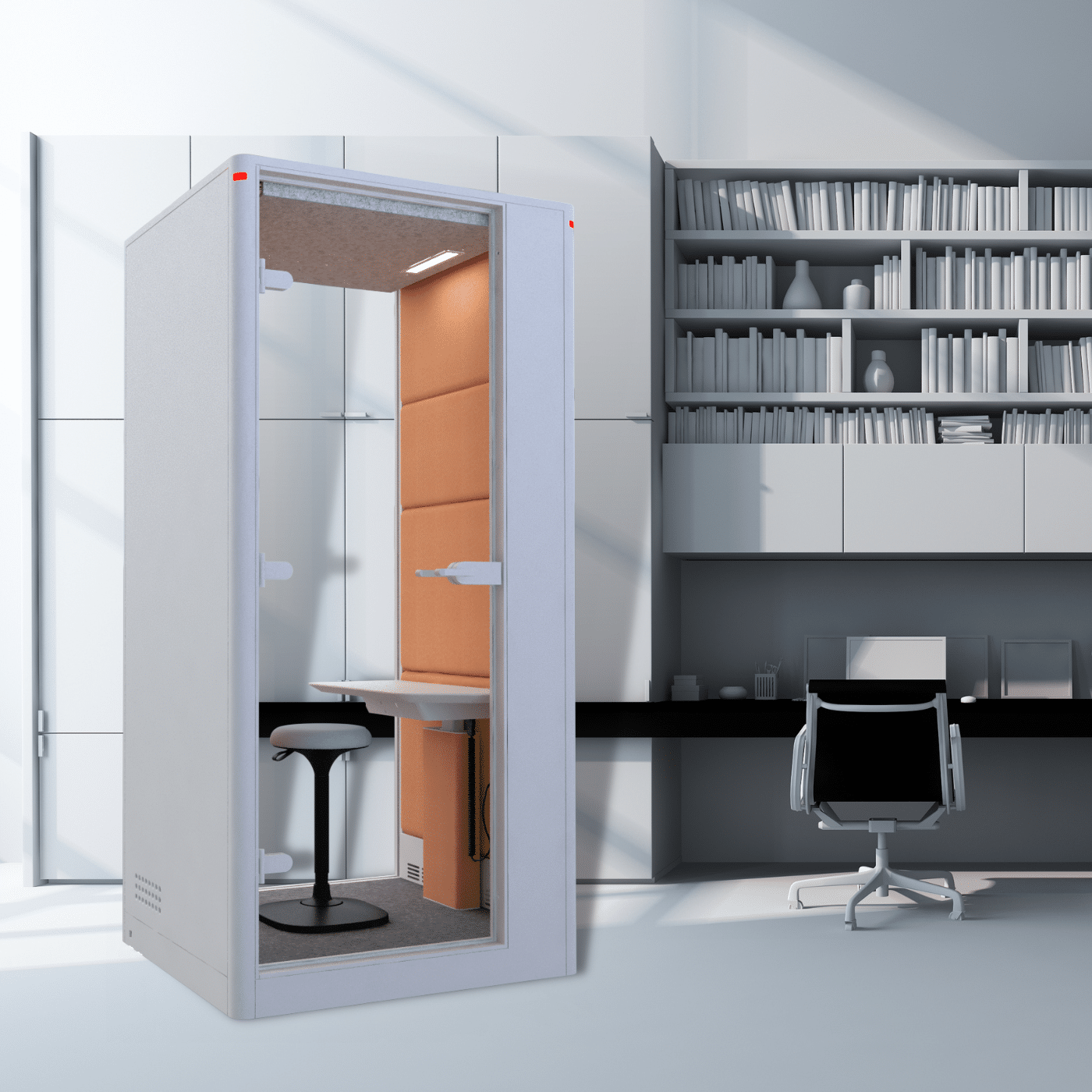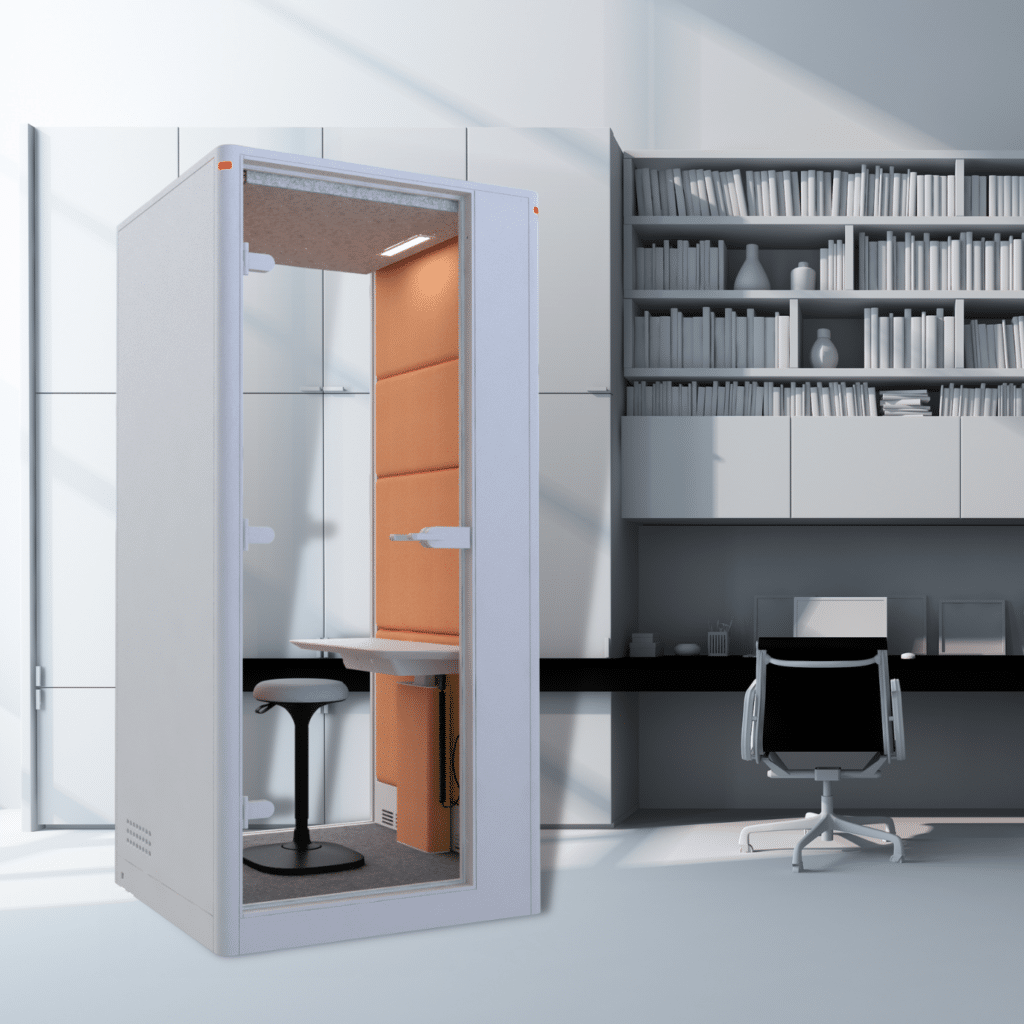 This is one of the larger booths on this list, at 110cm in width and 100cm in depth, but with all of that comes plenty of great features.
Firstly, this booth looks great and comes in a wide range of different colours, including a black exterior that always adds a sleek and modern touch to an office.
Acoustic foam walls mean private phone calls can be had with ease, and that there is always minimal distractions when speaking to someone.
There are some other really cool features that showcase the thought that has been put into the booth. Dimmable lights mean you always have the perfect environment for taking notes, and an occupancy indicator allows you to never be interrupted while speaking to someone.
Max Calma has gone the extra mile with this private phone booth, and it is a great addition to any office space or workplace.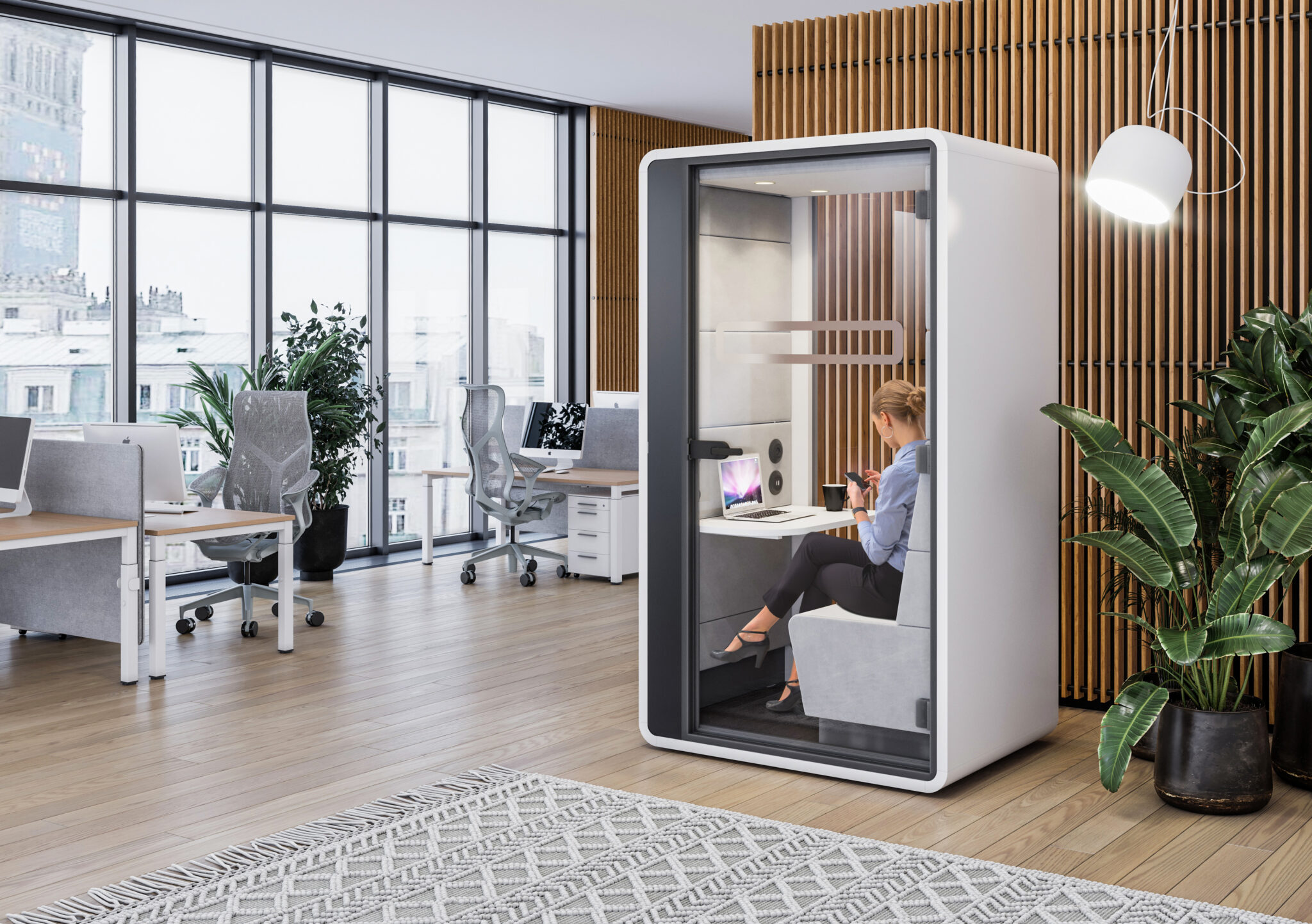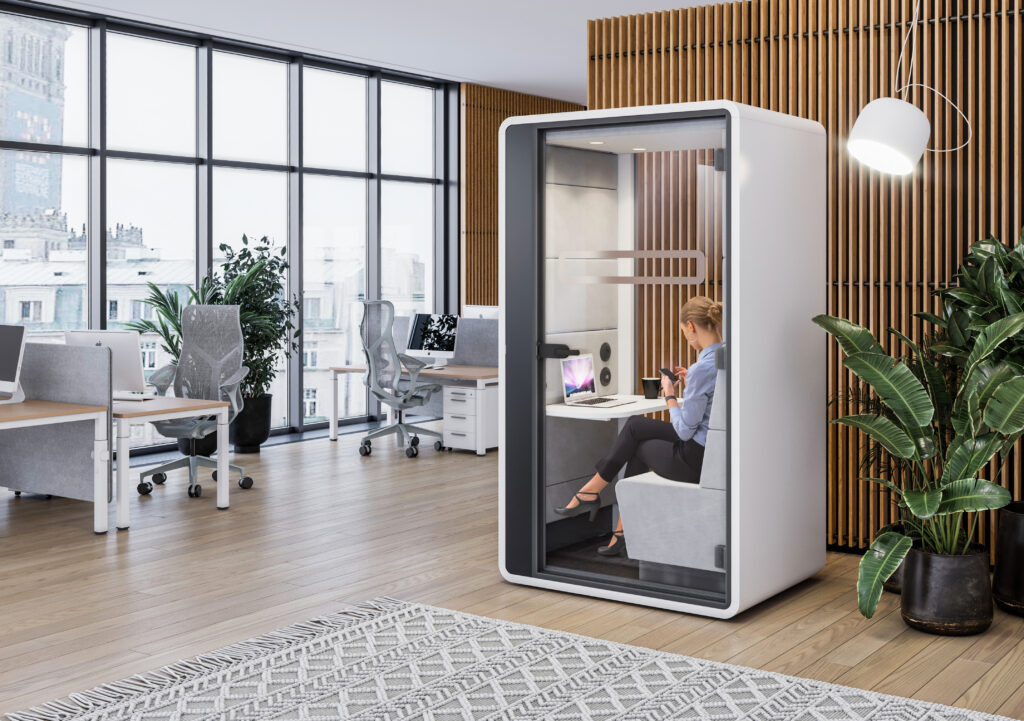 We're heading back to Hush Office for our final booth, the HushHybrid.
This is a booth packed with technology that is perfect for a wide range of office activities, including phone calls.
This one has a real focus on comfort while on calls and has been designed with hybrid working in mind.
There is an in-built screen for video conferencing, and even optional video lights so you can always be seen clearly. A control panel and privacy stickers on the windows allow you to always be in charge of the environment and never feel like you're being watched.
Add to this motion-sensored lights, high-performance ventilation, and the fact it has a stylish design, and you have something that will really stand out and transform your workplace.
Private Phone Booths from Max Furniture
Being able to hold private calls with minimal distractions is vital for any workplace.
If you would like to add one of these booths to your office today, then you're in the right place.
We have a wide range of workplace booths made for all situations, so if you would like to know more, or discuss adding one to your workplace, then get in touch today.