In the past few years, the way many businesses operate has changed.
Since the pandemic lockdowns, and the subsequent move to remote working, the amount of people not heading into the office every day has risen.
Hybrid working is a popular option for many businesses and workers, and 40% of people are embracing this, working from home at least once a week.
But what has hybrid working done for the office?
Well, while there may be more empty seats, offices have found ways to adapt and really embrace this change in working habits.
Acoustics pods are a great addition to any office space and can be a real boost to employees why adopt this approach.
In this guide, we're going to tell you why.
Let's take a look.
How Hybrid Working Has Changed Office Space
With the emergence of hybrid working, offices have had to adapt a lot.
With more people working from home, there has been a growing need to find ways for people to communicate and share ideas freely.
Open collaboration is more common throughout offices now, with this encouraged much more to get staff working together.
There has also been a need to provide a way for an employee to have a conversation with someone outside of the office, and an acoustic booth is the perfect place to do this quietly and without distractions, which is a great way to boost productivity.
Offices have had to become much more flexible. While traditionally, there may have been one desk for each worker, now it is much more fluid, and the emergence of meeting and private booths where an employee can focus alone or share ideas with a group are signs of the evergrowing need for collaboration and focus.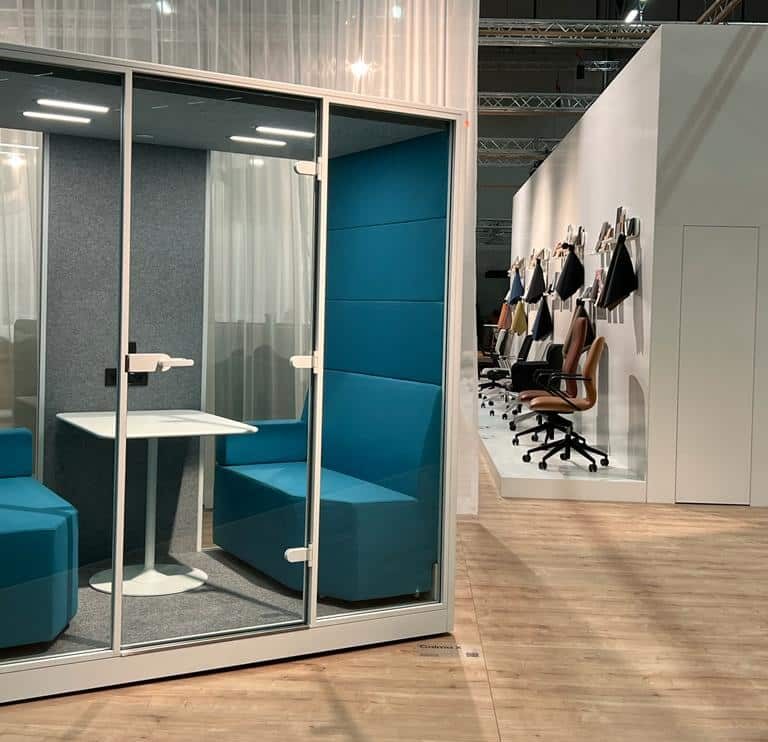 How Booths & Pods Are Helping to Incorporate Hybrid Working
Here are three reasons adding acoustic pods to your office can aid hybrid working.
The Perfect Meeting Environment
One thing that is vital for any business embracing hybrid working is that your employees still communicate with each other.
Whether coming up with new ideas or working through issues, being able to speak to individuals or groups is vital for a company that wants to avoid things becoming disjointed.
An acoustic booth is the ideal meeting environment.
Not only does it have the technology available to easily show people on a screen who may be working from home, but it also provides a way for multiple people to sit and hear what the person is saying.
Not only that, but acoustic booths have great soundproofing qualities, meaning that all distractions and excess sound are drowned out and the person who is speaking can be heard clearly.
This is a huge part of hybrid working, where video conferences are quickly becoming the norm. A whopping 90% of US workers said video calls improved their relationship with other workers, and 99% said it enhanced their communication experience, so finding the perfect setting to hold them is a major part of embracing this new method approach to working life.
A Private Place in the Office
With hybrid working, many people can get used to working from home.
This can mean that when it is time to head into the office, there is a big change going on, and for some people, it can feel overwhelming.
If you are someone who likes to work in silence and really focus on the task at hand, then an acoustic booth is a great place to do this.
It can allow you to feel like you're stepping out of the office for a while and is a great way of alleviating any stress that may have been building.
Referring back to the previous point, the privacy factor also plays a big part in video conferences. Many meetings discuss confidential matters, and while this could be done in private in person, it can be trickier over the internet.
An acoustic booth allows private conversations to be held safely in the knowledge that no-one can hear, which is a great way to allow your workforce to speak more freely to each other.
Utilise Office Space
Hybrid working can lead to confusion.
Keeping track of who is going to be in the office and who is staying away can be hard, and you may find that on some occasions your office begins to feel a bit crowded.
It is important that you utilise the space you have and make sure your office is always ready for any amount of your workforce to step inside.
Acoustic pods don't take up much room and can be integrated seamlessly into office space that may have been unused previously.
What this means is that you are creating a working environment where before there was nothing, and this is a great way of freeing up more room for the busier days inside the office.
With the many features of an acoustic booth, you can add a quiet and private place where employees can work, collaborate, learn, and more, and it can be added in a space that was unused before.
Many booths can also be moved around the office, meaning you can easily free up space when needed and always have the pod right where it needs to be.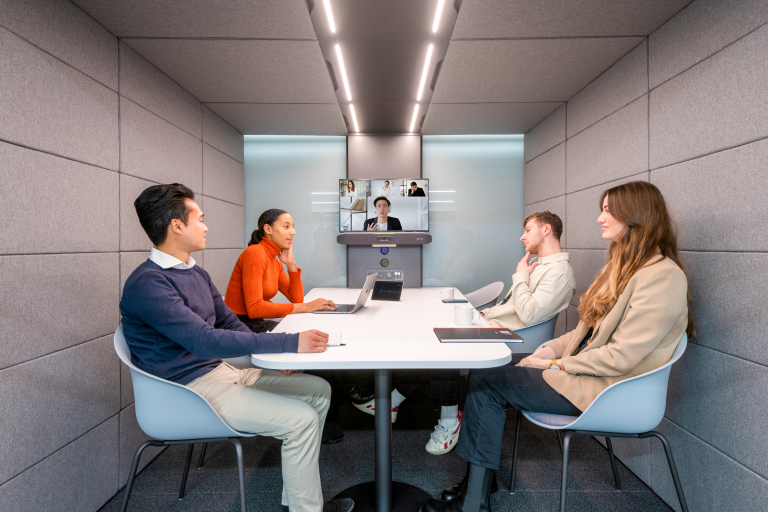 Acoustic Booths from Max Furniture
At Max Furniture, we have a range of acoustic booths that would be great for a hybrid working company, including:
Bejot Treehouse – The Bejot Treehouse is an innovative acoustic booth designed to provide privacy and a peaceful workspace. With its unique treehouse-inspired design, it offers a comfortable and secluded environment for focused work or small meetings.
Hush Pod – With its contemporary design and sound-absorbing materials, the Hush Pod offers a quiet and serene environment, shielding users from distractions. It provides a comfortable space for individuals seeking solitude or conducting confidential meetings.
Max Calma – The Max Calma booths are designed using over ten years of experience and are a mobile workspace that can be easily transported around the office. This is a well-designed and soundproof booth that is perfect for solo working.
Want to know more about any of our booths, or find out what Max Furniture can do to help you embrace hybrid working?
Then get in touch today.