Employees being able to communicate and collaborate freely with their colleagues is important for any business.
Without this, relationships, productivity, and much more will suffer.
In offices or workplaces, it can be hard to find the right place to hold meetings though.
You need somewhere big enough to house everyone comfortably but with minimal distractions and a degree of confidentiality.
The answer to all of these issues can be provided by a meeting booth.
These acoustic solutions are tailor-made for holding workplace gatherings, and in this guide from the team at Max Furniture, we're going to show you five of the best.
Let's take a look.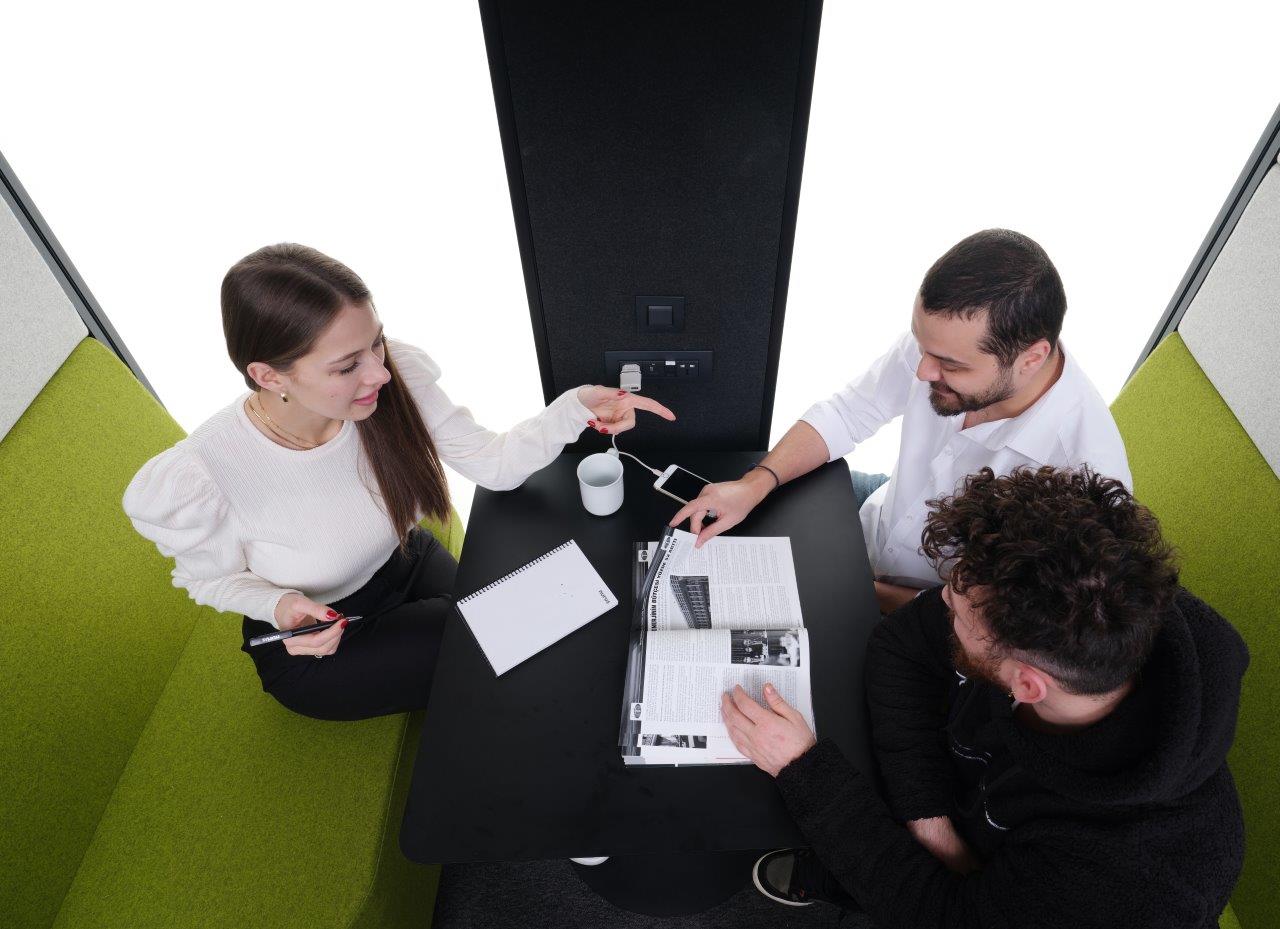 What Makes a Great Meeting Booth?
When it comes to a meeting booth, there are some key features that make them suitable for their role. These are:
Good Acoustics – One of the most important elements of these booths is good acoustics. Good soundproofing features allow everyone to be heard clearly, minimise distractions from the workplace outside, and allow a degree of confidentiality which encourages people to talk more freely.
Comfortable Furniture – If your meetings often last a couple of hours, or five minutes, you still need to feel comfortable when in it. Ergonomic, adjustable chairs can make a big difference and never leave you aching after an extended session.
Strong Ventilation – A meeting booth can quickly become hot and stuffy if you don't have the right ventilation. A good system should always be included to keep the air feeling fresh and maintain the level of comfort within.
Great Aesthetics – You may also invite people from outside your company into your meeting booth. A booth should leave a great impression and therefore it should always look great, be on brand, and be well-cleaned and maintained.
There are more elements that make up a great meeting booth and plenty of accessories that can also be added. With all of that in mind, here are five stunning options for your workplace.
5 Great Meeting Booths for Your Office or Workplace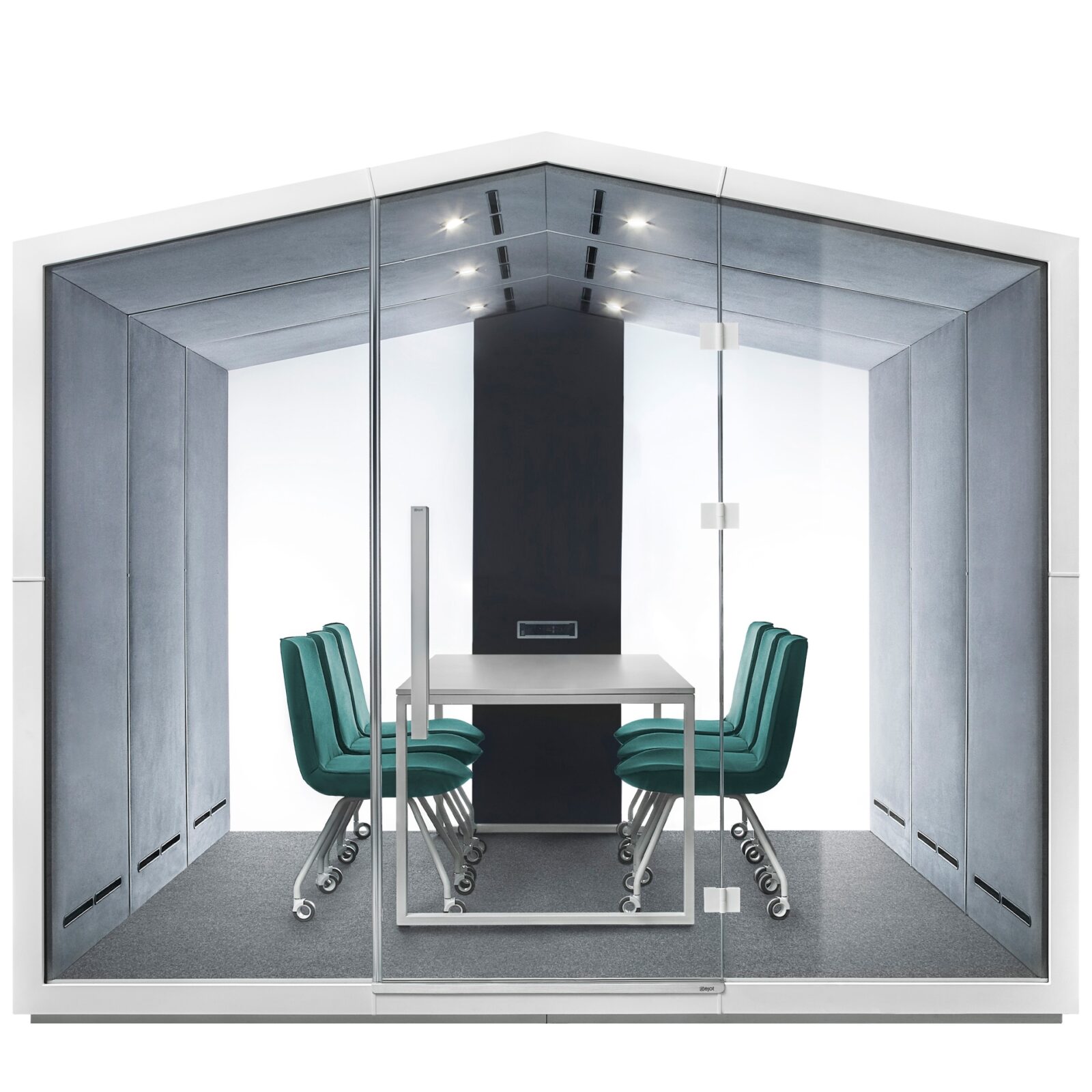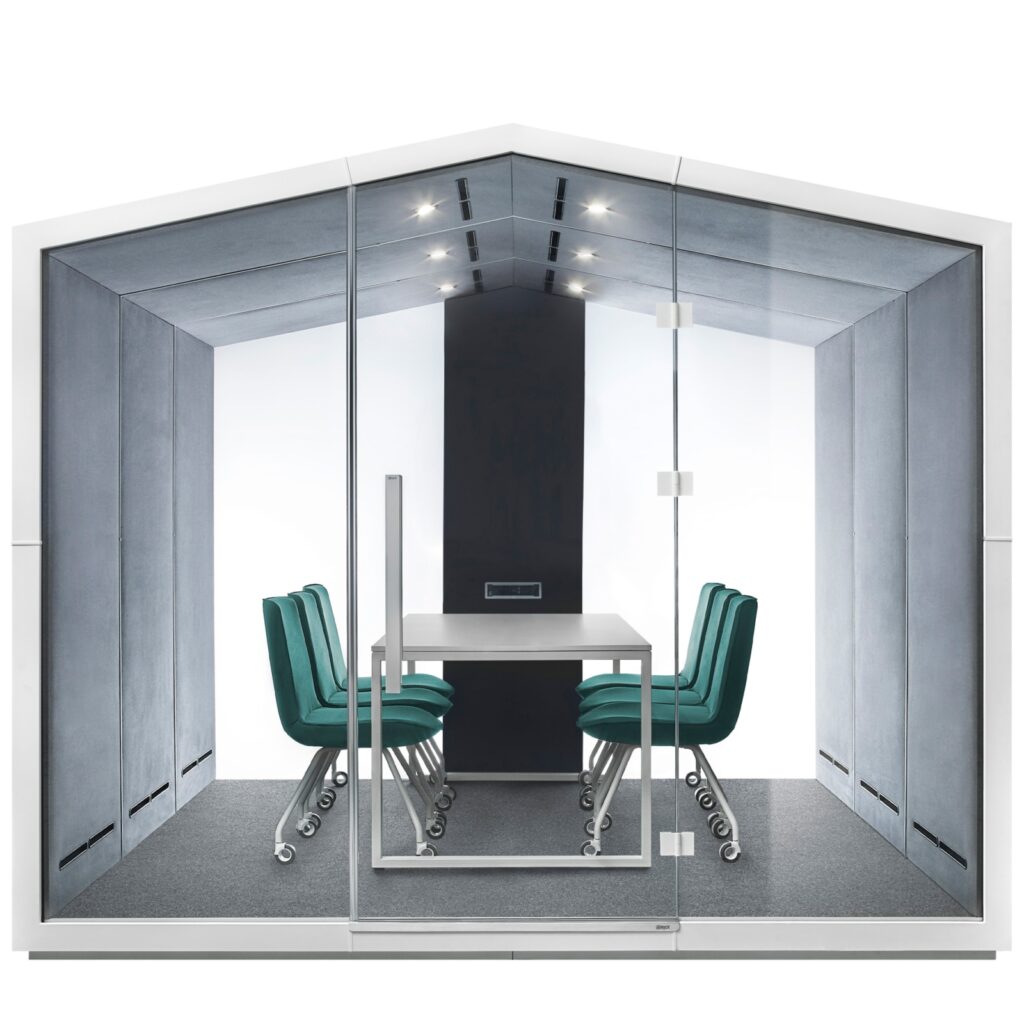 We're starting with the Bejot Treehouse, and this option is big enough to hold 6 people.
This is the largest booth in this range and makes for a stunning conference room that comes packed with great features.
At around 280cm wide and long, you're going to need a bit of space in your workplace to add this, but if you can squeeze it in, it's definitely worth it.
There is built-in air insulation and amazing sound quality to provide a high level of privacy. It also looks great, with glass-panelled doors and a stylish interior.
Everything has gone into this booth to create a comfortable place for meetings and collaboration, and an optional table with six accompanying chairs can be included to make it ready to go with your next round of meetings today.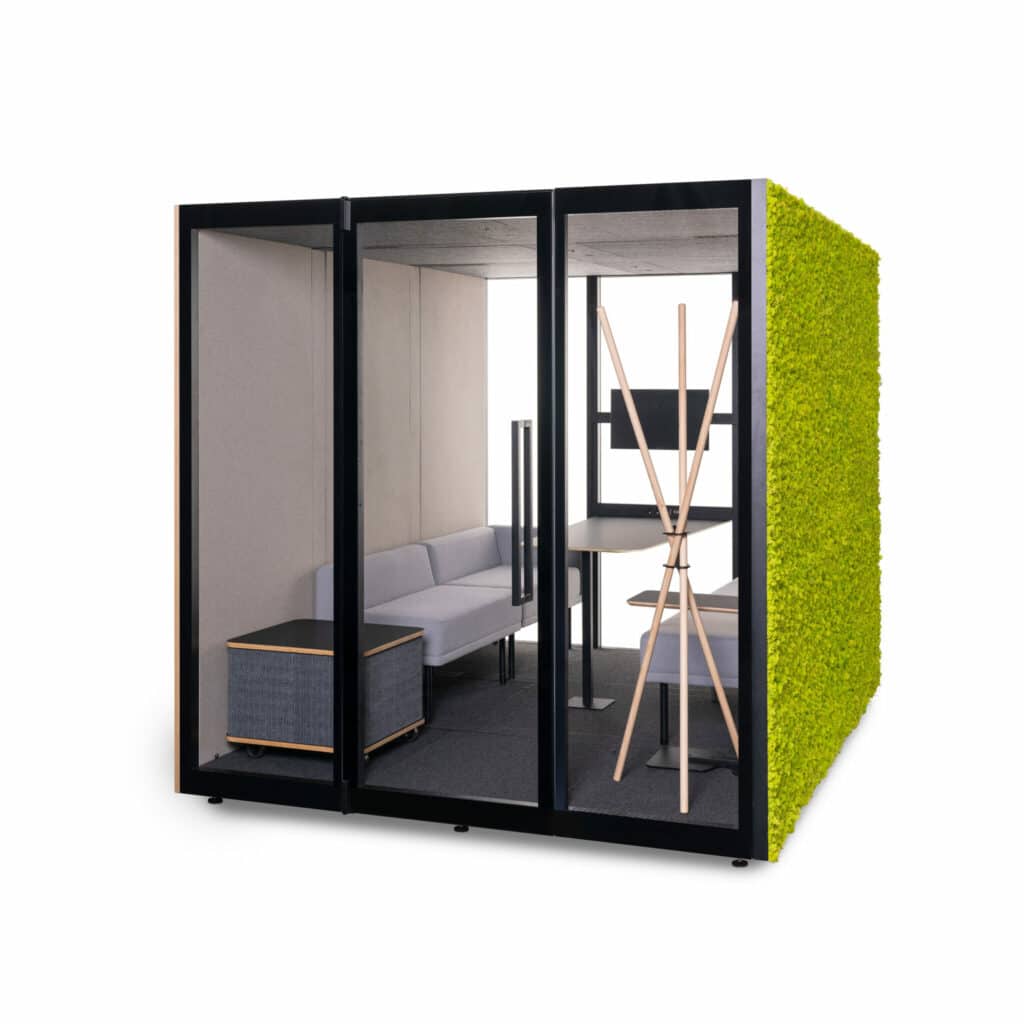 Next up is the Askia Kameleon K6, which is a super stylish option.
The great thing about the Kameleon range is the versatility of the booths. Exterior panelling can be changed so it's always looking good and on brand.
This booth can fit up to eight people, and is actually bigger than the Treehouse, measuring 220cm in width and a whopping 3 metres in depth.
There is a built-in table with comfortable chairs and all the technology you need to hold great video conferences, including USB ports, plug sockets, and a screen.
Add to that some lovely aesthetic features such as a smaller table perfect for coffees and notes, a coat rack, or even a large freestanding light, and this customisable booth is ideal for a business focused on their aesthetics.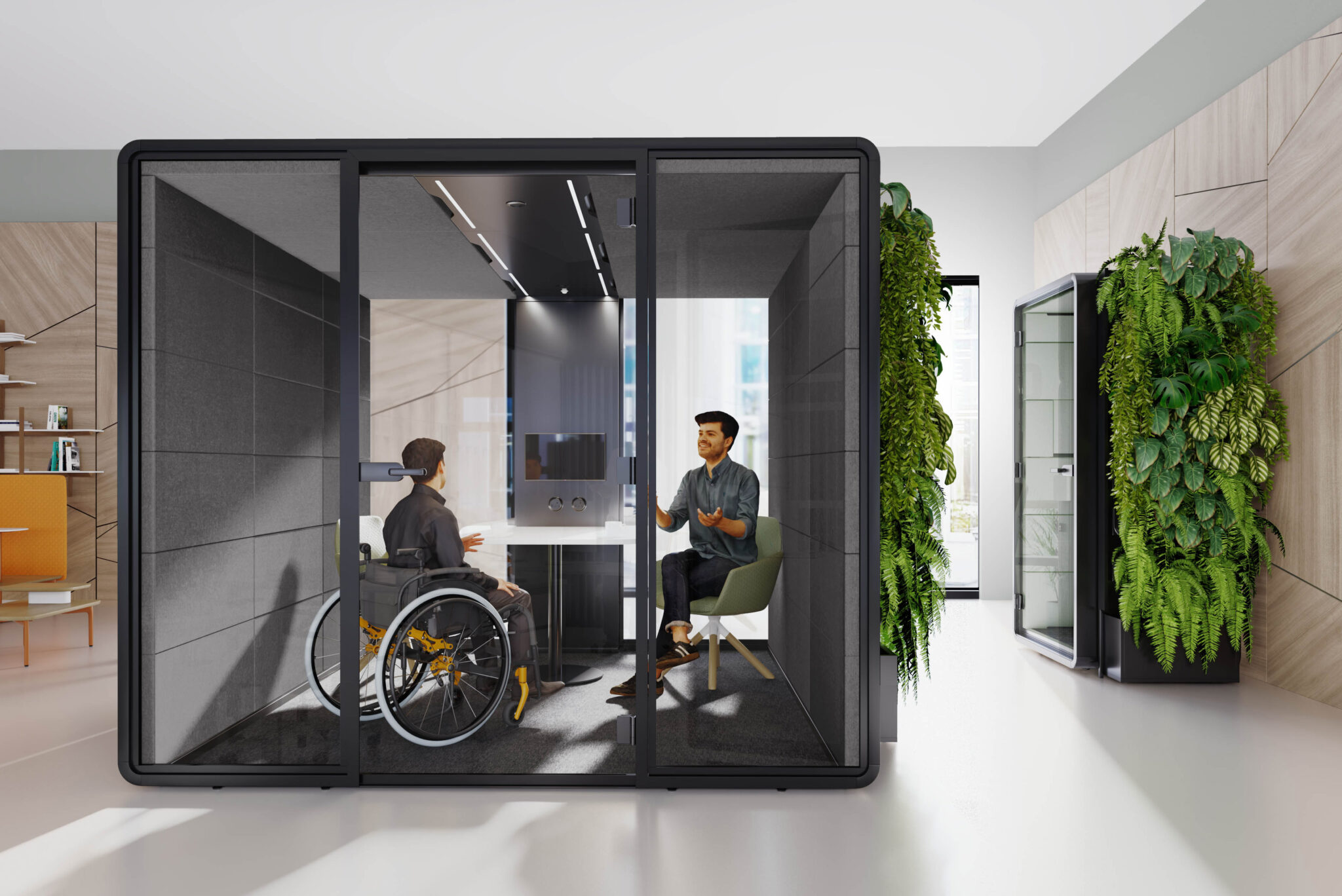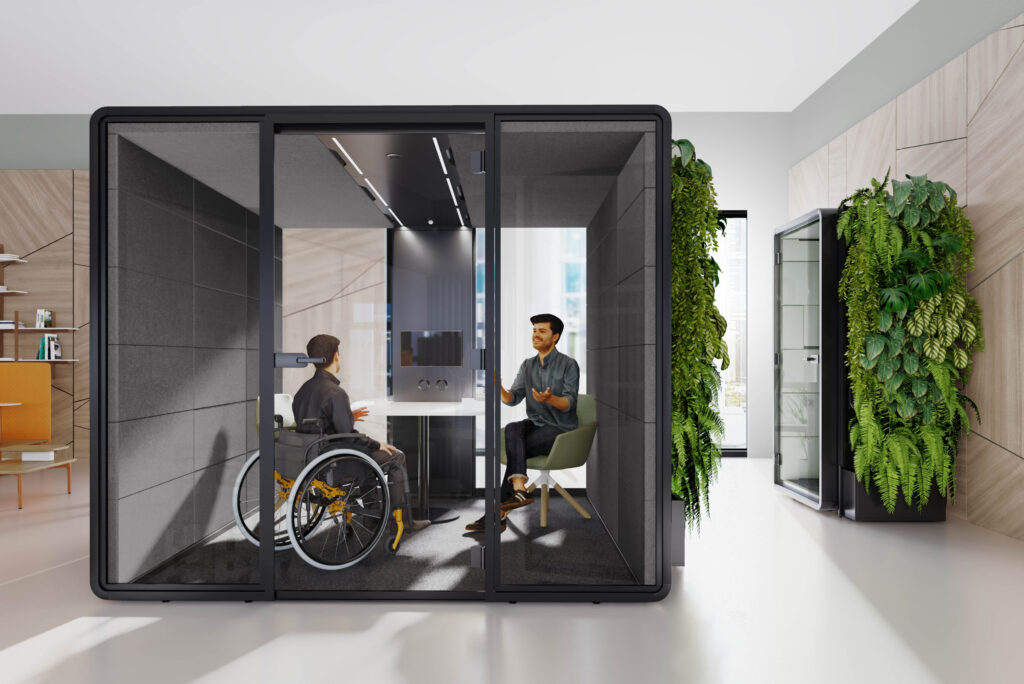 Making sure all employees are included in meetings is vital, and therefore you need a meeting booth that is designed to do just that.
The Hush Access L is tailor-made for inclusivity, offering a smaller table, wider door opening, low floor threshold, and more. These reasons factor in to ensure it is always ADA compliant.
This makes it simple for employees with disabilities to enter and feel comfortable when inside.
It is easily customisable and comes with a screen included for video conferences.
This is perfect for smaller meetings, where just a couple of people are present, and makes for an open and pleasant atmosphere.
The size of this booth can be altered and ranges from 180cm in depth to double that size, so is perfect for workplaces with less space available.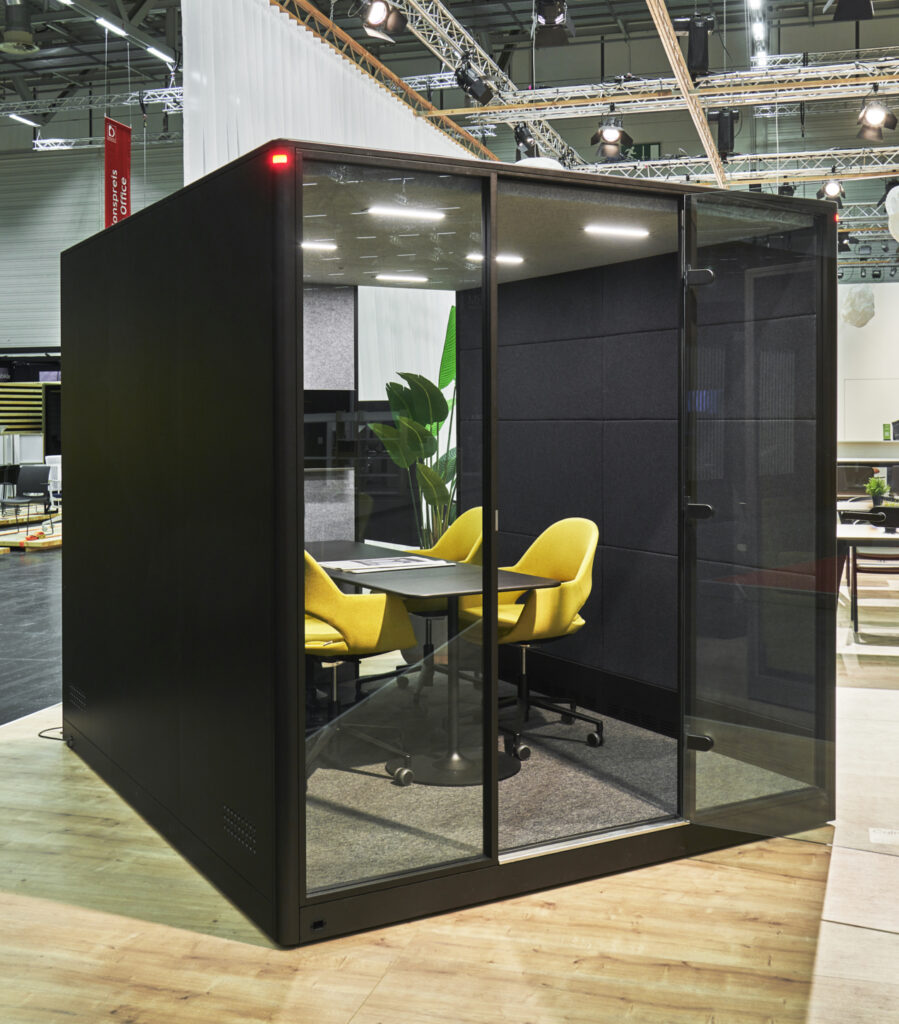 The team at Max Calma have been producing great office booths for many years now, and right at the top of their range is the Max Calma Pro.
This is the perfect place for large groups to meet and collaborate and great acoustic qualities mean it is always quiet and confidential.
There is great ventilation, lab-tested acoustic engineering, and plenty of customisation available to make this an effective choice for any business.
With space for six people, you can add all of the furniture needed to make this a comfortable and collaborative space.
A wall-mounted television is also available to make video conferencing easy.
This is a super stylish booth, boasting a carpeted floor, acoustic felt ceiling and side wall, and a glass panelled door to round off the look.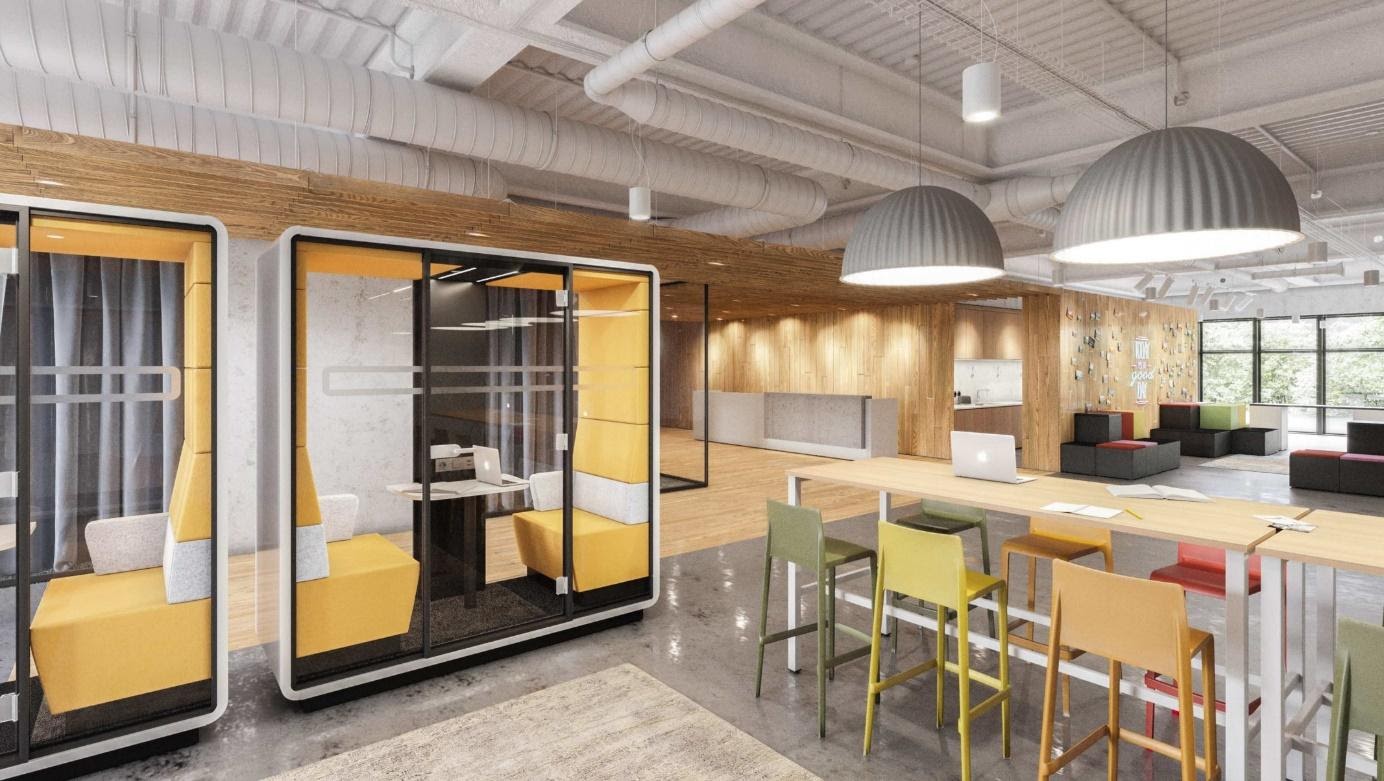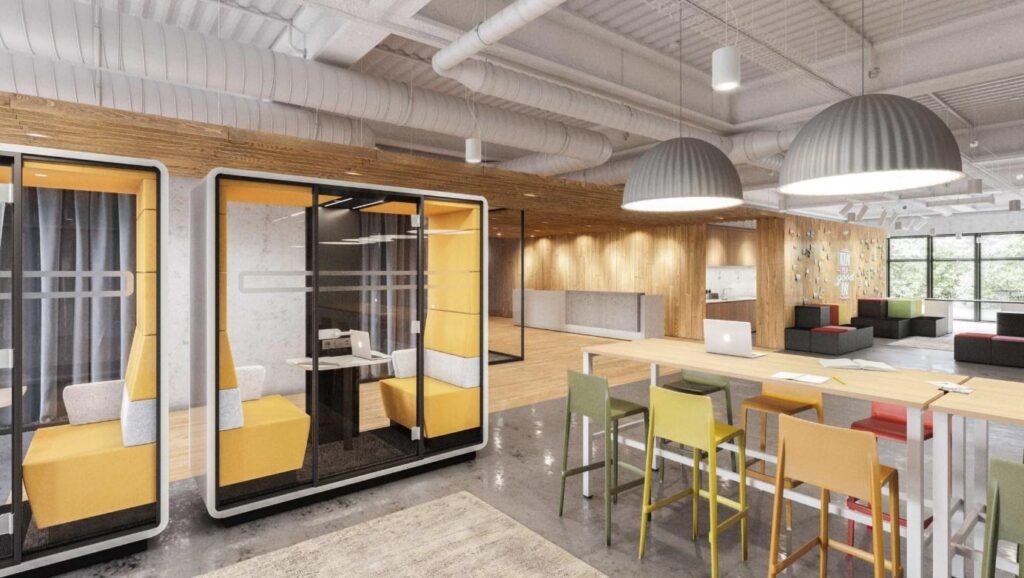 Not all workplace meetings require a large group of people to be involved. In fact, on many occasions it is just a couple of people talking through things.
In these cases, HushMeet Small is the perfect solution, offering privacy and minimal distractions for intimate conversations.
At only 90cm in depth, this is by far the smallest booth on the list, which makes it ideal for workplaces with limited space or a smaller number of employees.
While space is lacking, other qualities aren't.
Glass panels cover both sides and stylish seating makes this a really aesthetically pleasing booth. It also offers a small side table to make notes and a great degree of comfort.
There is room enough for four people, but it is ideal for two, and can even be used for private work, making this a great all-rounder and another hit from Hush Office.
Meeting Booths from Max Furniture
If you think your workplace needs a place to hold important and confidential meetings, then you're in the right place.
Here at Max Furniture, we have a wide range of booths from some of the world's leading suppliers.
Want to know more? Then get in touch with our team today.